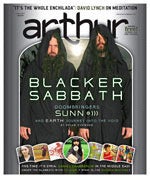 $

10.00 - On Sale

How do the drone-metal bands EARTH and SUNN O))) get something out of nothingness? By Brian Evenson, with photography by W. T. Nelson.
DAVID LYNCH talks about Transcendental Meditation with Kristine McKenna.
Somewhere amidst the music-box plinkings, plangent strings and percolating drones of COLLEEN's music is the Parisian Cecele Schott. John Adamian finds her.
American journalist/photographer Daniel Chamberlin concludes his travels in the Middle East with a journey through SYRIA and a return visit to EGYPT.
NEW ORLEANS filmmaker Henry Griffin returns to the Ninth Ward. Illustrated by Arik Moonhawk Roper.
Musician Alan Bishop listens to THE BUDDHA MACHINE.
Making money should really just be a happy result of contributing to the world what you do best, says columnist DOUGLAS RUSHKOFF.
Comics by Tom Hart, Jason Miles and David Lasky.
Bull Tongue columnists Byron Coley & Thurston Moore review the latest emanations from the deep underground, including new jams from August Born, Ben Chasny & Noel Von Harmonson, Telepathe, Child Abuse, D Yellow Swans, Inca Ore, Family Underground, Mirage #4, Industrial Sabotage, The Recluse, Calvin Johnson, Old Time Relijun, Selten-Ubel, Jeff Ladouceur, Nadia Moss, Lauren Naylor, Nate Young, King Brothers, Dirty Dynamite Gang, John Olson, Guam River, Dennis Tyfuss, Times New Viking, Double Leopards, White Rock, Jana Hunter/Devendra Banhart, Shackamaxon, Feathers and Kent Johnson.
C & D reason together about a bounty of new audio and video recordings from Tv on the Radio, Cast King, Nina Simone, Hisham Mayet, OOIOO, Pearls and Brass, The Fall, Tarantula A.D., Mi and L'au, Bjorn Olsson, Biff Rose and Lavender Diamond.